INSPIRED BY THE LAND
Artists, writers and scientists reflect on the meaning of the land in the new millennium.
VIEW "INSPIRED BY THE LAND" VIDEO PRESENTATION
Opening Reception at the Chapel Gallery: October 24, 2009, 7pm
ran November 15th 2009 to November 15th 2010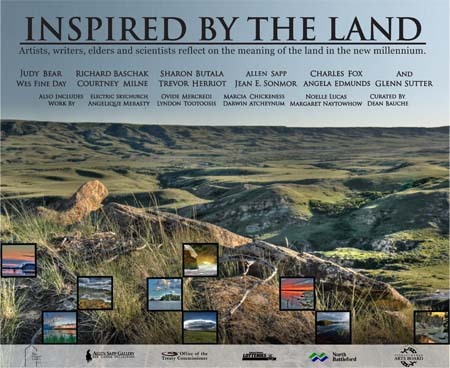 The Allen Sapp Gallery of North Battleford has created and ispreparing to circulate another significant and timely exhibition.
'Inspired by the Land' is a unique and dynamic exhibition, which brings together the work of over twenty contributors whose work challenges us to rethink our present understanding of the land.
Artists, writers, elders and scientists from across western Canada explore their visions, hopes and fears on matters that range from sustainable development, First Nation traditional views of land and the role of art and artists on matters of the land.
This multi media, multi disciplinary exhibition combines traditional media with synchronized multi screen installation with 5.1 sound around.
It is a feast for the senses involving a combination of paintings, crystal mounted photography, soundscapes and video. The First Nations traditional cultural installations offer insights into the healing power of the land and permit us to see, touch and smell plant preparations drawn from the land.
Many of the contributors to this exhibition are outstanding leaders and innovators in their field. We are delighted to offer congratulations to three in particular who have been recognized for their outstanding achievements. Trevor Herriot has been nominated for three national awards (the Governors Generals Literacy Award, Writers Trust Non-fiction Prize, and Saskatchewan Book Awards), the late Courtney Milne was honored as one of the 100 most influential grads from U of S and Sharon Butala received the Saskatchewan Order of Merit, (joining the likes of Allen Sapp and Tommy Douglas who were two of the first to receive it).
These most recent awards offer credence to the importance of this exhibition, which bring together some of our best minds to reflect on the important questions of the new millennium.
This exhibition curated by Dean Bauche (Director of Allen Sapp Gallery) includes 'inspired work' by the following contributors; Elders, Judy Bear and Wes Fine Day; Photographers, Richard Baschak and Courtney Milne; Writers, Sharon Butala and Trevor Herriot; Painters, Allen Sapp and Jean E. Sonmor; Scientist, Glenn Sutter; Soundscape, Charles Fox; Editing, Angela Edmunds; Music, Electric Skychurch; Poet, Ovide Mercredi; Beadwork, Marcia Chickness; Sculptors, Noelle Lucas, Lyndon Tootoosis, and Darwin Atcheynum; Birch Bark Biting, Angelique Merasty; and Baskets, Margaret Naytowhow.
Students coming through the gallery to tour the exhibition are being engaged by a unique educational program created to give students the opportunity to explore the themes examined in the exhibitions multi-screen presentation. The Allen Sapp Gallery's educational staff have been busy challenging the students to think critically about their own relationship with the land and to use the creative process as a vehicle to inspire and challenge others. Students have created their own stop motion animations on themes of pollution, the melting of polar ice caps, looking after our forests and the importance of respecting our diverse beliefs. The very best student production will be incorporated into the SMART component of the traveling exhibition. Student animations can be viewed here.
Special thanks to the Office of the Treaty Commissioner, City of North Battleford, Chapel Gallery, Saskatchewan Lotteries and Saskatchewan Arts Board.
Author Trevor Herriot has this to same about the exhibition,
We are beginning to see the damage and disintegration we have wrought here in little more than a century of settlement on these northern plains, and that seeing is an important step but only a first step. Where we go from here is neither clear nor simple, but the brave energies brought to life in the words and images of "Inspired by the Land" call us onward in hopefulness and reconciliation
Through the Eyes of the Cree
and Beyond
This exciting award winning National Touring Exhibition is unique because it examines the art of Allen Sapp from the perspective of its value and significance to his own people.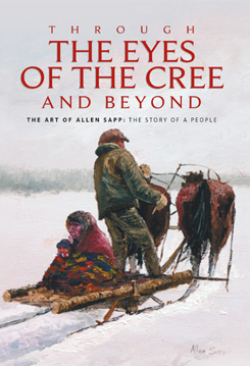 Groundbreaking Exhibit Provides a Rare Look at Farm Life from an Aboriginal Perspective
The Project is the Allen Sapp Gallery's most ambitious to date: celebrating the life of an internationally-renowned artist, a humble talented man who provides us through his work a precious record of the life of Saskatchewan's early settlers.
Dean Bauche is Director of North Battleford's Allen Sapp Gallery and Curator of Through The Eyes of the Cree. 'Allen grew us as a frail child who spent much time at home on the Red Pheasant Reserve, developing his artistic skills. He also had an incredible gift: a photographic memory with an infallible capacity for attention to details from scenes of life experiences he remembers and lays on canvas.'
Bauche and his colleagues undertook to create a Virtual Museum of Canada Exhibit from video interviews conducted among Sapp's friends and relatives, farmers and ranchers, as a companion work to bring greater understanding the worldview expressed in Sapp's paintings.
'We have researched the previously unknown meanings that emanate from the paintings, and we have combined both for this Centennial commemorative exhibit that will soon travel around Saskatchewan, Ontario, Manitoba, Alberta and the Northwest Territories,' said Bauche.
'Sapp's is a compelling story strewn with chapters all rural Saskatchewan can relate to. Breaking the land, gardening, milking your own cows, log houses - the reserve was imposed upon the Cree, but it didn't change their values and beliefs about who they were: family, community, prayer and respect for the land.'
Bauche is quick to add that in so many ways, what is explored here reaches much beyond the world of First Nations, and touches the journeys of all early settlers who came from Europe to Saskatchewan and turned to agriculture for their livelihood, in often difficult conditions.
'We feel privileged to have Allen play such a central role in our professional life and that of the gallery. In some way, he is part of our family, and we are certainly part of his. I guess now, all Canadians are invited to discover for themselves how significant Allen Sapp's contribution to understanding life on the Plains really is.'
The 4,000-square-foot exhibition presents hundreds of digital photographs, 70 paintings, 40 artifacts and 30 black and white archival photographs all explained through a digital interpretive component including commentary on Sapp's work from First Nations elders and youth.

Through the Eyes of the Cree and Beyond begins its 22-month tour in January 2005. When the province officially observes its 100th anniversary of becoming a province under Confederation in September 2005, Sapp's exhibit will run as part of a larger exhibit entitled Promised Land in Ottawa's Canadian Museum of Civilization.
For more information,
or the Virtual Museum of Canada Exibit http://www.virtualmuseum.ca/Exhibitions/allensapp/